Coaching Team
Head Coach James Barclay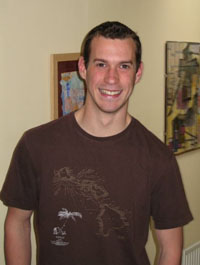 The appointed Head Coach is a young and energetic coach with a clear passion for the sport."As a child I played a wide range of sports starting with tennis from a young age but moved to badminton at the age of 12. I represented Oxfordshire Badminton from U13 to U17 level winning several County Championships and still play senior county matches today.
After county junior badminton I continued my education attending the University of Birmingham to study Sport and Exercise Science. Whilst completing the degree I trained with the High Performance centre at the university and played for the university 1st and 2nd teams as well as being Club Chairman. Having finished my degree I started doing some work with local schools which developed into a job coaching badminton across the Vale running badminton clubs in schools and competitions as well as a BADMINTON England academy school.
I have been working now in Performance Centres for the last 6 months as well as continuing to develop badminton in primary and secondary schools along with mentoring younger coaches. And with the spare time I have I am studying for a Masters in Applied Sport Science for which I am now entering my last year".
---
Junior County Squad Structure 2013/2014

Oxfordshire Performance Centre

Raw

Wednesdays | Abingdon School | 18:00-20:00
Sundays | Abingdon School | 10:00-12:00

Coaches: Matt Barker, Becki Blair, Harry Brewis

Developing A

Tuesdays | Abingdon School | 18:30-20:00
Thursdays | Abingdon School | 18:30-20:00

Coach: James Barclay

Developing B

Tuesdays | Abingdon School | 20:00-21:30
Thursdays | Abingdon School 20:00-21:30


Coaches: James Barclay, Matt Barker, Harry Brewis

Emerging

Mondays | Radley College | 19:00-21:00
Wednesdays | Radley College | 20:00-22:00

Coach: James Barclay

OBA Squads

Bronze Squad

Fridays | St Helens School | 18:00-20:00

Coach: Lee Ackrell

Silver Squad

Wednesdays | St Bartholomews School | 19:30-20:00

Coach: Oliver Buckley

Gold Squad

Fridays | St Bartholomews School | 20:30-22:00

Coach: Matt Barker

Foundation Squad

Sundays | St Helens School | 09:30-11:30

Coach: Graham Wells

Development Squad

Saturdays | St Helens School | 12:30-14:30

Coach: Graham Wells

OBA South-East Development Squad

(All ages) Mondays 16:00-18:00 | Thame Leisure Centre

School Clubs

Junior Clubs